website  watertownhistory.org
    ebook  History of Watertown, Wisconsin
Dr. Ferdinand Bernard Hoermann
Dr. Rudolph Bernard Hoermann
Dr. Ernst J. Hoermann
Dr. Rudolph Bernard Hoermann
History of Milwaukee, City and County, Volume 2, William George Bruce, S. J. Clarke Publishing Co, Chicago, 1922.
Few physicians have a comprehensive and thorough training such as Dr. Rudolph Bernard Hoermann of Milwaukee has achieved for he is a graduate of both the allopathic and homeopathic schools of medicine and in his practice is now specializing on diseases of the eye ear nose and throat for which he received special training his practice indicating his thorough capability and success in this department.  Dr. Hoermann is a native of St Louis, Missouri, born August 11, 1872.  His father was Dr. Ferdinand Bernard Hoermann, a physician who in 1881 became a resident of Watertown, Wisconsin, where he continued in active practice to the time of his death in 1918.  His wife, who bore the maiden name of Caroline Frentel, is still residing in Watertown.  They were the parents of a family of five sons and five daughters all of whom have reached adult age.
Dr. Rudolph B Hoermann, the third in order of birth, has one brother who is a physician and two are members of the dental profession, the latter being Dr. Alfred Hoermann a dentist of Milwaukee and Dr. Ernst Hoermann who is practicing his profession in Watertown, Wisconsin.  One brother and three sisters reside in Honolulu, Hawaii, the former being the Rev. Arthur Hoermann DD, a prominent Lutheran clergyman.  All of the sons are professional men and one of the daughters is the wife of a physician, Dr. T. F. Shinnick of Beloit, Wisconsin.
Dr. Rudolph B. Hoermann was chiefly reared in Watertown, Wisconsin and there obtained his Bachelor of Arts degree on the completion of a course in the Northwestern College, a Lutheran school at that place.  He afterward spent four years as a student in the medical department of the University of Michigan and was graduated with the MD degree in 1897.  Through the succeeding period of four months he was identified with the outdoor poor department of Bellevue Hospital of New York and later he studied in Berlin and Vienna pursuing postgraduate work in the year 1898, thus becoming splendidly qualified for the work of his profession. 
He located at Watertown, Wisconsin, where he opened an office and continued in general practice from 1899 until 1912.  In the latter year he came to Milwaukee where he has remained and for four years his attention has been concentrated upon diseases of the eye ear nose and throat.  He has gained a high degree of proficiency in his specialty having largely come to be regarded as an authority upon this branch of practice in Wisconsin.  He belongs to the Milwaukee County Medical Society the Wisconsin State Medical Society the Wisconsin Surgical Society and the American Medical Association.  He is a constant student continually reading along lines that promote his knowledge and advance his efficiency in coping with disease and restoring the human body to normal conditions.
On the 28th of July, 1903 Dr. Hoermann was married to Miss Renata Mueller.  They had one son Harold Mueller who was killed in an automobile accident at the age of ten years.  Following this the city put policemen on all corners near the schools for the lad was returning home from school when struck by the machine causing his death.
During the World war Dr. Hoermann served on local board No 3 of Milwaukee.  He is a member of the Lutheran church and he belongs to the Wisconsin Club which is indicative of his appreciation of the social amenities of life.  He has gained many friends during the years of his residence in Milwaukee and he enjoys the respect and confidence of his colleagues and contemporaries in the profession
Dr. Ernst J. Hoermann
05 11 1938
Dr. Hoermann Dies at Mayo Clinic today 
Dr. E. J. Hoermann, with dental offices in the Wiggenhorn building, died early today at St. Mary's hospital in Rochester, Minn., a unit of the Mayo clinic, where he had undergone an operation three weeks ago.
Dr. Hoermann was born in Watertown and had lived here all his life.  His birth took place April 26, 1882.  He was the son of Mrs. Caroline Hoermann and the late Dr. Ferdinand B. Hoermann.  He attended Watertown High School and after graduating from there attended the school of dentistry at Marquette University, from which he graduated.
He married Elsa Babenroth on June 26, 1907.
Dr. Hoermann was a member of the board of park commission for the past 12 years.  The park development program was one of the things closest to his heart and up to the time he took ill was a leader in the movement for a swimming pool here.  He had worked many long hours on park projects and was interested solely in further development that would result in a still better park system in the city.
Was a charter member of the Rotary club and was one of the founding members of the Wethonkitha club.  
A leader in the 1938 campaign for St. Mary's hospital.
Burial in Oak Hill cemetery.   
Cross References:
Hoermann, Ernst E.J., b. 1882, d. 1938
Hoermann, Father, b. 1844, d. 1918, Dr. Ferdinand Bernard Hoermann    
Hoermann, Mother, b. 1850, d. 1938, Caroline Hoermann nee Preine
WDT article:
http://www.wdtimes.com/features/in_times_square/article_bebaf636-6321-11e7-8144-9395b6a302f9.html#tncms-source=article-nav-prev
<![if !vml]>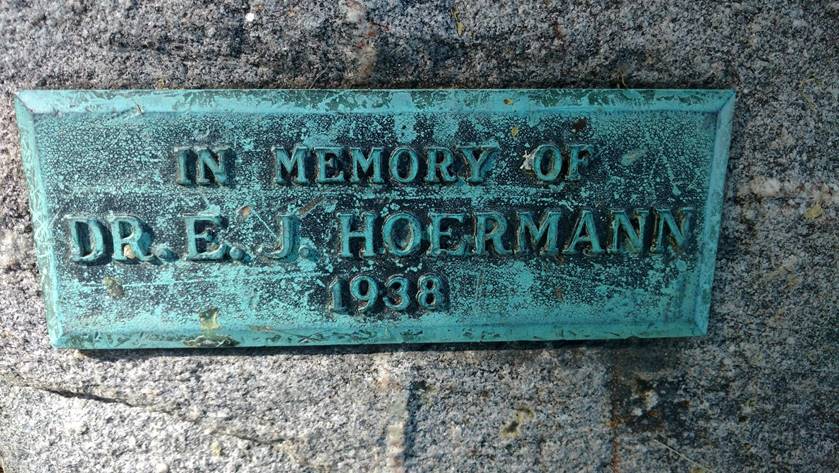 <![endif]>
<![if !vml]>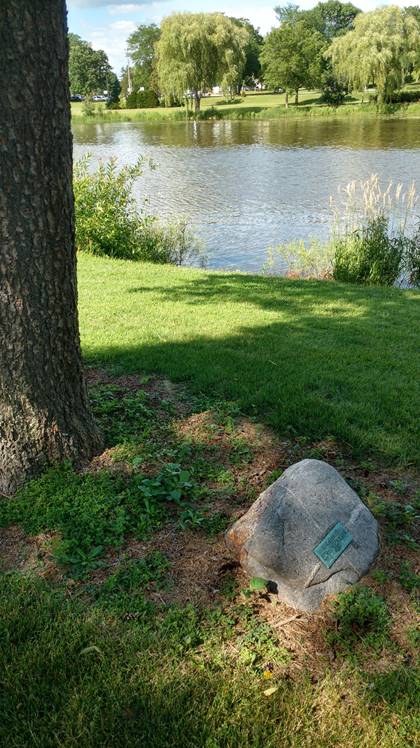 <![endif]>
Cross references:
<![if !vml]>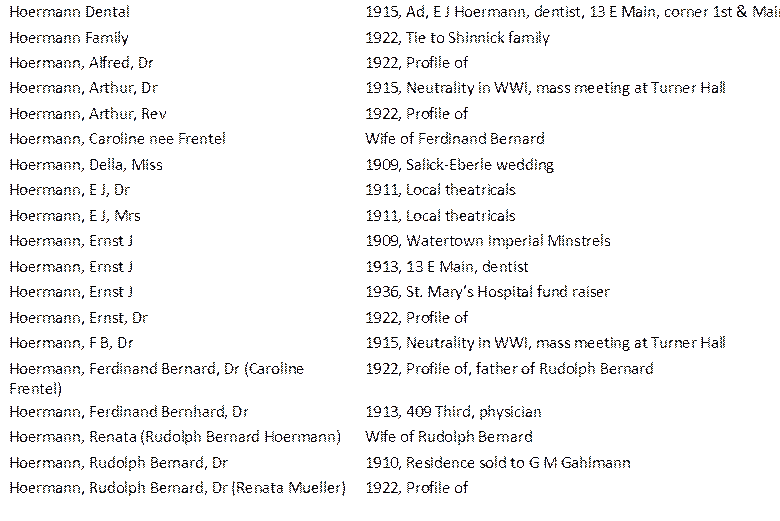 <![endif]>

History of Watertown, Wisconsin