website  watertownhistory.org
    ebook  History of Watertown, Wisconsin
Herros Tot and Teen Shop
1955
| | |
| --- | --- |
| Herro, Lester | |
| Herro, Lester | |
| | |
c.1957
<![if !vml]>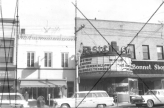 <![endif]>
1959
1964
06 25       The Tot and Teen Shop, one of Watertown's most widely known business concerns, opened in its new quarters at 210 Main Street this morning, having moved from its former location at 306 Main Street. The new location has been extensively remodeled, a new front has been added and a larger stock and better displays have been made possible by the transformation. The business is operated by Mr. and Mrs. Lester J. Herro who operate similar stores in a number of other cities.
MARY LEE HERRO
RACINE — Mary Lee Herro passed away on Wednesday, June 30, 2010, at Wheaton Franciscan Healthcare-All Saints.
Born in Middlesboro, Ky., she was the daughter of Minnie (Tamer) Latiff.  She married Lester Herro who preceded her in death in 1996.  They lived in Watertown most of their married life.
Mary Lee was an avid golfer with a 14 handicap, including a hole in one.  She loved bridge, earning a Bronze Life Master and was very close to becoming a Silver Life Master.  A vibrant woman and female entrepreneur in the 1950s, she and her husband followed in the footsteps of her father-in-law and mother-in-law, Joseph and Elizabeth Herro, and opened Tot N Teen Shops in Wisconsin.  The in-laws opened the first theater, ice cream parlor and tri-county tobacco company in Watertown, where his name can be found on a building in downtown Watertown.  She worked hard her whole life, creating a better life for her children, making sure that they could have as much education as they wanted.
Mary Lee is survived by her children, Dr. L .J. Herro, (optometrist), Dixie (Herro) Van Remmen, a teacher of Spanish; her two granddaughters, Jessica and her husband, Brenden, and their daughter, Charlotte, and her second granddaughter, Kelly and her husband, Farris, and his son Collin along with their son, Geoffrey.
In keeping with Mary Lee's wishes a private family ceremony will be held at a later date.
We are so grateful to Wheaton Franciscan Hospital, the Hospice within the hospital, all of the doctors, nurses and other caregivers.  "You all made our experience so full of ease and love."  Also our thanks to the Sturino Funeral Home for honoring her requests with efficiency and respect.
Sturino Funeral Home 3014 Northwestern Ave. Racine
Cross References:
| | |
| --- | --- |
| Tot & Teen Shop | 1950, 310 E Main |
| Tot & Teen Shop | 1957c, 306 E Main, 1950s-70s city assessor form, WHS_006_039a |
| Tot & Teen Shop | 1957c, 306 E Main, 1950s-70s city assessor image, WHS_006_039b |

History of Watertown, Wisconsin