website  watertownhistory.org
    ebook  History of Watertown, Wisconsin
First German Baptist Church
changed to
First Baptist Church
1854       ORGANIZED
1865
03 30       SELECT SCHOOL IN BAPTIST CHURCH
We would remind our readers that next Monday Mrs. Young commences her select school in the Baptist church on Second Street, and parents cannot only confer a benefit on her but also on their children by placing them under her care.   WD
08 03       BAPTIST SUNDAY SCHOOL PIC NIC
At two o'clock on the afternoon of Wednesday, the 19th, the children, accompanied by their parents, teachers and friends, assembled at the Baptist church, where they formed into procession and, led by their superintendent, Mrs. Daniel J. Woodard, marched to a beautiful grove near Dr. Stockwell's residence, where they were met and welcomed by several of the ladies who had preceded them.  They entered the grove, keeping step to the music of their own voices.  The glad sunshine flooded the earth, the pure blue of the heavens was rivaled only by the glad light of happiness dancing in the children's eyes . . . .  The grove was made musical by the glad voices of the children until approaching twilight warned them to depart.  WD
1873
01 29       BAPTISM IN FROZEN ROCK RIVER
A society of German Baptists in this city, who have been holding a series of religious meetings for some time past, had the rite of baptism by immersion administered to a female member last Sunday in the river near Main Street bridge.  A hole was cut in the ice for the purpose and such was the condition of the weather that it required some nerve to go into the water and get dipped.  The ceremony was witnessed by a large number.   The Watertown News, 29 Jan 1873
1875       HOUSE OF WORSHIP ERECTED
The doctrine of John the Baptist was represented in Watertown by a congregation of Germans, numbering 105, who worshiped in a church edifice on County Line Street, near Second, erected in 1875.   The society was organized in Watertown in 1854 as a branch or dependence of a similar organization in the town of Lebanon.  Services were held in the schoolhouses and halls until the erection of a place of worship in 1875.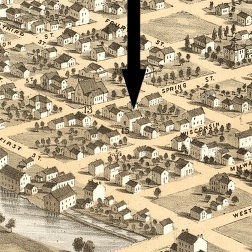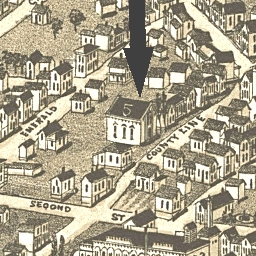 1867                                                                        1885
1914
11 19       The Rev. and Mrs. Emil Matschulat were tendered a surprise reception by the members of their new congregation, the German Baptist, at the church Tuesday evening.  When the members of the congregation and invited friends had all gathered, a committee waited upon the pastor and his wife and escorted them to the church, where they were greeted by a welcome song by the choir.  A musical program was rendered by various musical organizations of the church under the direction of Arthur Krause, choir leader.  The Rev. N. Carter Daniell led in prayer and the Rev. Gerhard Francke made an address of welcome, which was followed by shorter addresses of greeting by the presidents of the Sunday school and other church organizations, to all of which the new pastor replied feelingly.  A social hour at which refreshments were served followed the program.  The Rev. and Mrs. Matschulat came here from Bay City, Michigan.  They have an infant son who is the only other member of the family.   WG
[above may contradict the following]
1882
This church was organized on July 3, 1882 as the First German Baptist Church of Watertown, Wisconsin, which name was changed to the First Baptist Church of Watertown, Wisconsin. (from 1959 Constitution book)
1959
CONSTITUTION OF THE FIRST BAPTIST CHURCH
A 20-page text-searchable pdf file, available upon request.  DOC:  WHS_001_002_PDF
ARTICLE II. AFFILIATION
This church is affiliated with The North American Baptist General Conference, including The Northwestern Conference of The North American Baptist General Conference.
ARTICLE III. PURPOSE
The purpose of this church shall be to promote the Gospel of Jesus Christ in its entirety:
1. By furnishing the members a medium of cooperation in accomplishing the purpose of this church.
2. By stimulating meetings for public worship, for prayer, for religious education, for evangelism, and for the development of Christian fellowship.
3. By awakening an interest in and support for missions at home and abroad.
4. By encouraging whatever other work for the Lord and Saviour Jesus Christ, this church may desire to unite in undertaking.
ARTICLE IV . . . .
Cross-References:
No 1:  Tie to Concord German Baptist Church, located at Bakertown, Concord Township, Jefferson County, WI
<![if !vml]>

<![endif]>
History of Watertown, Wisconsin