website  watertownhistory.org
    ebook  History of Watertown, Wisconsin
August and Sophia Bliefernicht Gamm
Gamm Crockery
400 E Main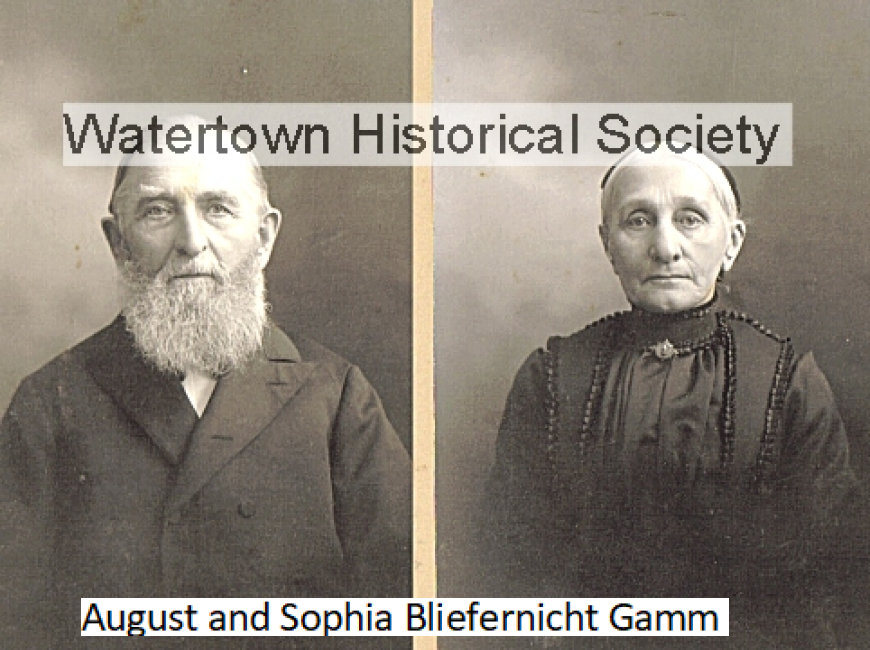 August and Sophia Bliefernicht Gamm      WHS_005_391
August Johann Carl Friederich Gamm was born on 8 Aug 1827 in Mecklenburg, Germany. He was baptized in the Lutheran church at Alt Gaarz (modern Rerik) Germany on 12 Aug 1827. On 11 April 1852, in the same church, he married Sophia Maria Dorothea Bliefernicht. Sofia was born on 28 July 1829 in Mecklenburg, Germany. Baptized 30 July 1829 in the same above-mentioned church.
Early Watertown Settlers:
August and Sophia Bliefernicht Gamm owned and ran Gamm Crockery on Main Street.
1884
08 18       That handsome sign of August Gamm's crockery store, so conspicuous on the Fourth Street wall of the establishment, is the work of Brown Brothers & Dobbratz, and shows up splendidly with its fine hanging lamp and elegant display of dishes.   WR
1899
<![if !vml]>

<![endif]>      Paving of Main Street (with brick street pavers)
1906
05 18       DEATH CALLS MR. AUGUST GAMM
        Extended Honeymoon in Watertown
Within the past few days, death has not dealt gently with the aged populace of Watertown and several of the well-known pioneer residents of the city.  Like the leaves of autumn they have been quickly fading and falling into the depths of the unknown beyond.
The last to close his eyes in the sleep that knows no awakening on this mortal sphere is the well known and highly respected citizen August Gamm, who passed away at 1 15 o'clock this morning at his home, 901 Sixth Street, after an illness of about a month, the last two weeks of which time he was confined to his bed.  The announcement of his death will be a sad shock to the host for friends in the city and tributary country who have enjoyed his acquaintance for many years.  He was universally well liked and was one of the most highly respected citizens of the city.
August Gamm was born Aug. 8. 1827, in Mecklenburg, Germany.  He married Sophie Bliefernicht April 11, 1852.  The following day, he with his bride, sailed for America, coming direct to Watertown, where he had ever since been active in business.  He was one of the pioneer settlers.
The deceased was well known in Lutheran church circles, having been one the founders of St. Mark's church in 1854 and had continued an able elder of that church for many years.  In securing and retaining the Northwestern University for Watertown, he took an active part and he has held various positions of trust for the Lutheran Synod, working in its interest and extensive soliciting tours in the years 1868-69.
The deceased helped to build the railroad into Watertown and at that early period worked for 40 cents per day, having come to Watertown from Milwaukee by ox team.  He was a stone cutter by trade and was engaged in that trade here many years.
In the year 1860, he opened a grocery store with his brother.  In 1883 he opened a crockery store in which business he was engaged up to death.
The deceased is survived by his widow, and seven children, August J. Gamm, Milwaukee, Mrs. Rev. A, Toepel, Iron Ridge; John G. Gamm. Miss Sophie Gamm, Fred W. Gamm of this city; Herman Gamm of Green Bay; Rev. Julius Gamm of La Crosse, also twenty-eight grandchildren and grandchildren.
The funeral will be held Friday afternoon at 2 o'clock at St. Mark's church.  It is requested that flowers be omitted.    The Watertown News, 18 May 1906
1910c
<![if !vml]>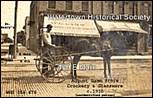 <![endif]>
1914

1916
1919
CHRISTMAS AD
<![if !vml]>
<![endif]>  
Gamm Home, 901 S. Sixth St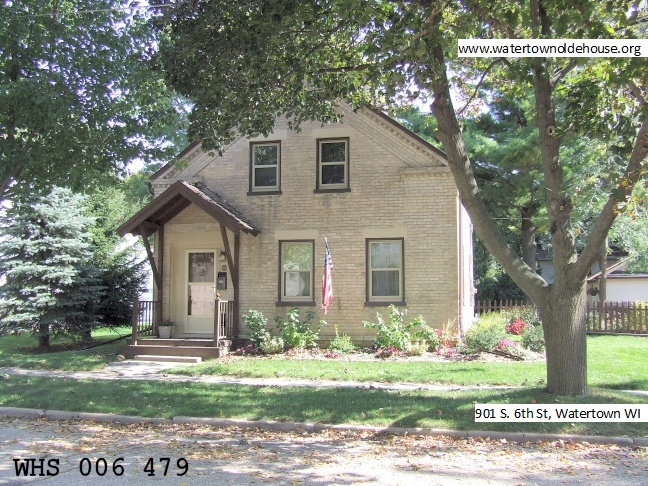 Gamm Home at 901 S. Sixth St. 
Built around 1860, was owned by August Gamm, who
along with his brother George owned the store at 400 East Main Street.
Cross References:
Gamm, August / 1909, 1935, 400 E Main, crockery & glassware, city directories

History of Watertown, Wisconsin