website  watertownhistory.org
    ebook  History of Watertown, Wisconsin
Fendt Brothers Meat Market
303 N. Fourth Street
Theodore A. Fendt
1895 - 1984
M/M Theodore A. Fendt
Golden Wedding Anniversary
1972
<![if !vml]>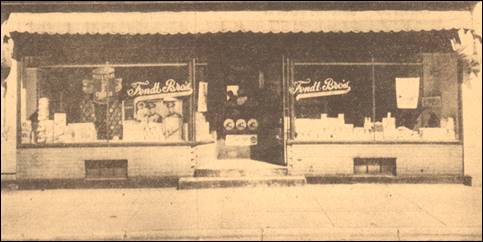 <![endif]>
1954:  35 YEARS     /    Click to enlarge
1872-1900
EDWARD STEINBERG, BUTCHER, AT THIS LOCATION
1913
A J O'BRIEN & SONS MEAT SHOP AT THIS LOCATION
1919 – 1954
FENDT'S 35 YEARS...
When We Look Back 35 Years Doesn't Seem So Long, But . . . those years have been interesting, rewarding years filled with the satisfaction of work well done and the development of a reputation for highest quality meats and meat products that has brought us a host of customers and friends to whom we express our sincere thanks.
We control and maintain our superior quality because we carefully select the animals we slaughter, and process them with the care quality meat deserves so that our customers receive the superior meats, sausages, hams and bacon they desire.  If you haven't enjoyed the distinctive flavor of Fendt Bros, home-killed meats and meat products we invite you to visit our clean, sanitary shop for a trial purchase.
Fendt's WIENERS and SAUSAGES
Home-Killed Meats
Home-Cured Hams and Bacon
Custom Slaughtering
FENDT BROS. MARKET  /  Fine Quality Meats  /  303 N. Fourth Street
1919
<![if !vml]>

<![endif]>  
07 20       FENDT BROTHERS PURCHASE PARCEL CAR FOR DELIVERIES
       New Harley-Davidson parcel car (motorcycle)
Fendt Brothers, proprietors of the meat market at 303 North Fourth Street, have put into service a new economical Harley-Davidson parcel car, which is the latest model and has all of the most modern equipment.  The car commenced its career this morning and is attracting considerable attention from those who are beginning to recognize the motorcycle vehicle as a coming favorite in the commercial field.
The car was purchased of Schmutzler & Schlueter, local distributors of the Harley-Davidson products, and is a fine appearing outfit, particularly fitted for meat market delivery.
A prominent businessman of this state recently stated that there is no question about the motorcycle surpassing anything on the market for quick and cheap deliveries.  The motorcycle will squeeze through where an auto delivery would have to wait in line on narrow, crowded streets in any city.
The Fendt Bros. state that they believe that their new parcel car service; will cost less per package per mile than any other method of delivery and that it gets there and back quicker.  They intend to give that quick service in their business that generates good will.
The Harley-Davidson has various parcel car attachments and the one delivered for the Watertown meat market is peculiarly adapted to that kind of business.
The firm of Fendt Bros. is composed of Theodore and Alois Fendt, and they have been in business about a year.  Four of the brothers served in the army, one of them, Eugene, having lost an arm overseas.
They are successful business men and their market is a complete success and well deserving of patronage.       WDTimes, 07 20 1920
1922
12 13       CHICAGO STYLE SMOKE HOUSE
Peterson and Paradise, contractors, are constructing a Chicago type smoke house for Fendt Bros.  Market which when completed will be the most modern as well as the only one of its kind in this section of the state.  Hollow tile laid in lime and cement mortar is being used int the erection of the smoke house, which is located in the rear and in the same building as the market.
c.1920s
<![if !vml]>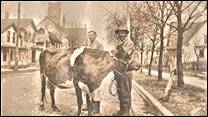 <![endif]>     300 Block N. Fourth      <![if !vml]>

<![endif]>
Man with apron appears to be a butcher, perhaps that of Fendt's, immediately to the south of where picture was taken.
c.1956
<![if !vml]>

<![endif]>      City Assessor picture
1972
06 21       THEODORE A. FENDT
Mr. and Mrs. Theodore A. Fendt (Irene Mary Hrobsky) marked their golden wedding anniversary on June 21, 1972.  They were married June 21, 1922 at St. Henry's Catholic Church, with the late Father F. X. Schwinn officiating.  Attendants were Lawrence Brown of St. Paul, Minn., and the late Josephine (Loukota) Brown.
A concelebrated mass was held June 18, 1972, at St. Henry's with the Revs. Raymond Dunn, James Hinnen and Michael Hippee officiating.  Servers for the mass were Greg Huber and Brian Wooley.  The offertory offering was taken to the altar by Christine Tesch, Susan and Bonnie Fendt and Deborah Kaercher.  Ushers were Joseph, Norbert and Francis Haberkorn and Pat Ebert.  Commentator for the mass was Wayne Simon.  The adult choir sung the Mass with a solo by Steven Fendt.
Mr. and Mrs. Fendt had three children, Wilfred of Orange, Calif., Mrs. Melvin (Phoebe) Wendt and Mrs. John (Virginia) Kaercher of Watertown, one son, Kenneth, passed away Feb. 8, 1969.  They also had 10 grandchildren, Richard, Susan, Bonnie and Steven Fendt; Theodore of Albuquerque, N. Mex.; and Christine Tesch; Dianna (Kaercher) Frisch, John, Jr., Joseph and Deborah Kaercher and four great-grandchildren, Anthony Fendt, Michele, Christine and Michael Frisch.
Fendt was the son of the late Mr. and Mrs. Henry Fendt, Sr.
Fendt Brothers Meat Market
Mr. Fendt began operating Fendt Brothers Meat Market in October of 1919, with his brothers Alois and Fred joining him as partners.  After the death of Alois, Kenneth joined the firm until his death.  After completing his military service, Donald, son of Fred, joined the firm.  They have been in business for over 52 years (as of 1972).
Mrs. Fendt was the daughter of the late Mr. and Mrs. John Hrobsky.  She had one sister, Mrs. Fred (Genevieve) Fendt and one brother, George Hrobsky.
1990
12 04       SPRITZ, PFEFFERNEUSSE, AND ZULTZ
When preparing to laden the dining room table with those holiday treats, don't forget to put out the spritz, the pfefferneusse, and the zultz.  The zultz? What?  Not on your list?  "Most young people don't know what it is, but it used to be served a lot on New Year's Eve along with creamed herring," said Don Fendt, owner of the family-owned market at 303 N. Fourth St.  He said, "Most meat packers call it zouse and meat processors call it sulze, but we have always called it zultz." (Pronounced "Zooltz").  Now that we know how to pronounce it, just what is it?  "It's a sweet and sour pork loaf we make with pork shoulder.  We cook the meat and add bay leaf, vinegar, onions and other seasonings and gelatin," Fendt explained.   WDT
2019
11 22       100th ANNIVERSARY
<![if !vml]>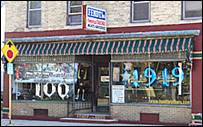 <![endif]>   

History of Watertown, Wisconsin