website  watertownhistory.org
    ebook  History of Watertown, Wisconsin
Jacob Ditschler
1845 - 1910
Jacob Ditschler, proprietor of saloon; born in Germany June 21, 1845.
He came to New Orleans with his father in 1847; remained there eight months; then they came to Cincinnati, Ohio; lived there six years; then resided in Hamilton, Ohio, two years; returned to Cincinnati and remained one year, then went to Peoria, where he resided until 1856, then came to Milwaukee; lived there eleven years except three years spent in the army; came to Watertown in 1867; remained here six months, then went to Beaver Dam, where he stayed one year, when he returned to Milwaukee and spent two years more, and then finally returned to Watertown
Engaged in cigarmaking until the fall of 1878, when he engaged in saloon business.  Oct. 8, 1861, he enlisted in Co. B, 1st Wisconsin Mounted Infantry; he served as Corporal; was in all engagements his regiment participated in; served three years. 
He was married, May 26, 1870, to Augusta Schmidt; she was born in Prussia; they have four children – Anton, Clara, Edward and Ferdinand. 
Mr. Ditschler is a member of the Concordia Musical Society, also of the Harugari.
1895
<![if !vml]>

<![endif]>        <![if !vml]>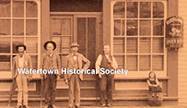 <![endif]>
Cross References:
Jacob Ditschler, Civil War veteran, GAR Personal War Sketch, 1890

History of Watertown, Wisconsin