website  watertownhistory.org
    ebook  History of Watertown, Wisconsin
DeMolay
Rock River Chapter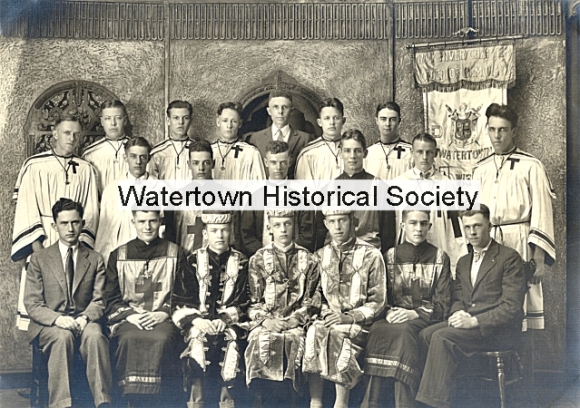 WHS_005_565
Sitting:  1st George Dieter, last Art Killian
Back row:  4th from left, Dr Moen
_____________________________________________________________
WHAT IS DEMOLAY?
DeMolay is an organization dedicated to preparing young men to lead successful, happy, and productive lives.  Basing its approach on timeless principles and practical, hands-on experience, DeMolay opens doors for young men aged 12 to 21 by developing the civic awareness, personal responsibility and leadership skills so vitally needed in society today.  DeMolay combines this serious mission with a fun approach that builds important bonds of friendship among members in more than 1,000 chapters worldwide.
1950
05 19       22nd ANNUAL DEMOLAY BALL
<![if !vml]>

<![endif]>  
John Weaver and Betty Busse will reign as king and queen of the 22nd annual DeMolay ball.  Mr. Weaver is the son of Mrs. Lois Weaver, while Betty is the daughter of M/M Ralph Busse.
Other members of the royal party include Robert Nowak and Bonnie Buske, Richard Beyer and Donna Schmidt and John Erni and Lorraine Kersten.
Dancing will begin at 9 p.m. and continue until 1 a.m.  Coronation to be held at 10 p.m.
1952
12 24       OFFICERS INSTALLED
New officers of Rock River Chapter, Order of DeMolay have been installed.  The chief office went to Don Pugh who is master councilor who replaces Jim Loeffler.  Other new officers are:  Senior councilor, Dan Archie; junior councilor, Herb Zoeller; senior deacon, Ed Buchert; junior deacon, Lynn Gritzner; senior steward, James Stuart; junior steward, Jim Broede; chaplain, Don Stannard; orator, Harry Gutermuth; marshal, Ted James; standard bearer, Tom Mason; sentinel, Jim Loeffler; almoner, Allen Dunlap. Preceptors, Phil Peck, Dave Rollins, Bob Wendt, Pete Hartwig, Allen Dunlap, Tom Mason, Don Stannard.   WDT
1962
05 15       NEW OFFICERS
At a meeting of Rock River Chapter, Order of DeMolay held at the Masonic Temple last evening new officers were elected. Charles Summers was elected master councilor and will lead the local organization for the next term. He will be assisted by William Wiegand as senior counselor and Roger Willeford as junior councilor; Harvey Loeb, senior deacon; Tom King, junior deacon; Karl Wolf, senior steward; Tony Howard, junior steward; Ronald Wolf, chaplain; Gerald Kreitzman, scribe; Arthur Kehl, sentinel; Mike Howard, marshal; Tom Bender, almoner; Dan Kusel, orator.    WDT
1963
03 19       At a public ceremony to be held at the Masonic Temple this evening a new staff of DeMolay officers will be installed for Rock River Chapter.  The officers to be installed are: David Knight, master councilor; Alan Reinhard, senior councilor; Stephen Weiske, junior councilor; Tom Bender, senior deacon; Dan Kusel, junior deacon; Mike Willeford, senior steward; Steve Schultz, junior steward; Gerald Kreitzman, scribe; Joe Stockli, chaplain; Matt Knox, sentinel; Don Snyder, standard bearer; Scott Fries, almoner; Ron Neuman, marshal; David Bayer, orator.    WDT
1964
12 12       Don Snyder is the new master councilor of Rock River Chapter, Order of DeMolay, following public installation ceremonies held at the Masonic Temple Saturday night.  He is the son of Mr. and Mrs. Paul Archambeau, 1402 River Drive, and will serve for the next three months.     WDT
1965
03 11       The newly elected officers of Rock River Chapter, Order of DeMolay, will be installed at the Masonic Temple Wednesday evening.  The meeting is an open one and friends and parents of the members are cordially invited to attend.  The officers to be installed will lead the local chapter during the spring term.  David Elliott will be the new master councilor; Scott Fries, senior councilor; and Ronald Neumann, junior councilor.    WDT
12 07       The highest award that can be given to a former member of the Order of DeMolay will be awarded to two past members of the Rock River Chapter, here on Wednesday evening.  The recipients of the DeMolay Legion of Honor Awards will be Joseph C. Rhodes of Watertown and the Rev. Don Stannard, formerly of Watertown but currently of Sturgeon Bay.  To confer the honor a delegation of Legion of Honor members from Madison will come to Watertown and it is also expected that James Benz, president of the Wisconsin DeMolay Legion of Honor organization of Wauwatosa, will be present to assist in the investiture.   WDT
1966
12 19       ELECTION OF OFFICERS
The newly elected officers of Rock River Chapter, Order of DeMolay, will be installed at the Masonic Temple Wednesday evening.  The meeting is an open one and friends and parents of the members are cordially invited to attend.  The officers to be installed will lead the local chapter during the spring term.  David Elliott will be the new master councilor; Scott Fries, senior councilor; and Ronald Neumann, junior councilor.    WDT
1968
03 13       ELECTION OF OFFICERS
Rock River Chapter, Order of DeMolay, will hold an open installation of officers Saturday, March 23, at 7:30 p.m. It will be held at the Masonic Temple, 106 Madison Street. To be installed as Mastor Councilor is William Kreitzman, son of Mr. and Mrs. Edward Kreitzman, 1325 Western Avenue. Other officers to be installed are: James Kohls, senior councilor; Richard Neumann, junior councilor; James Bertel, senior deacon; Clifford Lueck, junior deacon; Dave Willeford, senior steward; James Twesme, junior steward; Robert Stupka, chaplain; Larry Schaefer, marshal; James Hargraves, Thomas Bartel, Gary Schaefer, Charles Miller, Jack Sweeney and Daniel Stoppenbach, preceptors; and Scott Simpson, standard bearer.    WDT
<![if !vml]>

<![endif]>
History of Watertown, Wisconsin