website  watertownhistory.org
    ebook  History of Watertown, Wisconsin
Dadant & Sons
Dadant 150th Anniversary History, 1863-2013
Dadant & Sons Hold Open House at New Branch
W2763 E Gate Dr Watertown, WI 53094
<![if !vml]>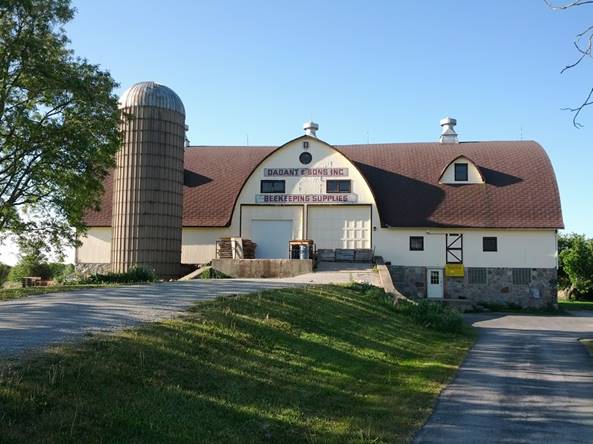 <![endif]>
1955
09 29       Plans announced for the opening of an office and sales room here for Lewis-Dadant supplying a full and complete line of bee hives and bee ware, once the product of the G. B. Lewis Company.
1981
Abstracted from American Bee Journal, July 1981
A landmark in the Watertown area has become home for the Dadant & Sons, Inc. beekeeping supply business.
Dadant & Sons, Inc., recently moved into a remodeled 45-year-old dairy barn, gaining needed floor space for displays, warehouse space and office area.  The long-time Watertown business is now located 1 1/2 miles east of Watertown at the intersection of Ash Road and East Gate Drive.
According to Dadant manager Dick Kehl, the barn is one of the oldest and largest freespan dairy barns in the United States.  The 34 x 120 foot building was constructed in 1936 by the Oestreich family.
All stones in the foundation were gathered by neighbors from the fields surrounding the barn.  They were stacked in a large circle and a local man was then hired to cut, fit and cement the foundation.  His wages were $2 per day, plus meals.
The barn has proven to be an excellent location for a Dadant warehouse.  The bull pens have been replaced by the shipping area and wax room.  The milk house is now a furnace room and the stanchion space for the dairy cattle has been turned into a display area.  The main storage area for supplies was the former hay mow and the horse stables have given way to the office and restrooms.
Dadant & Sons, Inc. at Watertown is one of nine Dadant branches around the nation and the company is one of the world's largest manufacturers and suppliers of beekeeping supplies. The firm is headquartered in Hamilton, IL.
09 29       ARTHUR KEHL
The Watertown Fourth of July parade committee has named Arthur W. Kehl as the honorary parade marshal for the 1992 parade. Kehl served in the Army as a technical sergeant, receiving his training at Camp Blanding, Fla. He served as an instructor at Camp Blanding for two years after which he was transferred to Fort Knox where he was in charge of an office. He has been employed at Brandt's, Kusel's, Tri-County Tobacco, G.B. Lewis Company and Dadant and Sons. He was involved in beekeeping at Lewis' and Dadant and Sons and lectured at Midwestern universities on beekeeping. He served as president of the Jefferson Beekeepers Association and Wisconsin Honey Producers. He was named beekeeper of the year, the highest honor given by the Wisconsin Honey Producers.
2012      New Watertown Manager
05 18
<![if !vml]>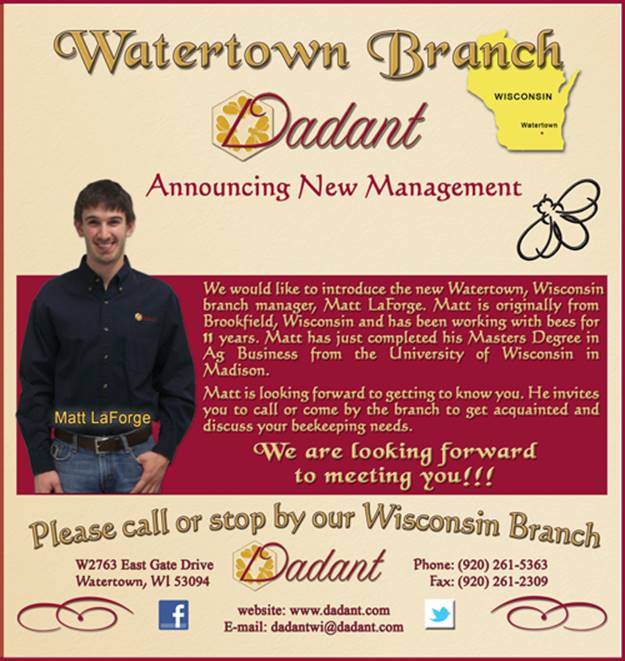 <![endif]>

History of Watertown, Wisconsin