website  watertownhistory.org
    ebook  History of Watertown, Wisconsin
         Review article on Watertown movie theaters
<![if !vml]>

<![endif]>   <![if !vml]>

<![endif]>   < PORTFOLIO OF PICS
Classic Theater
Towne Cinema
Towne Cinema = Town Treasure
1913 - 2013 = ONE HUNDRED YEARS
308 E Main
<![if !vml]>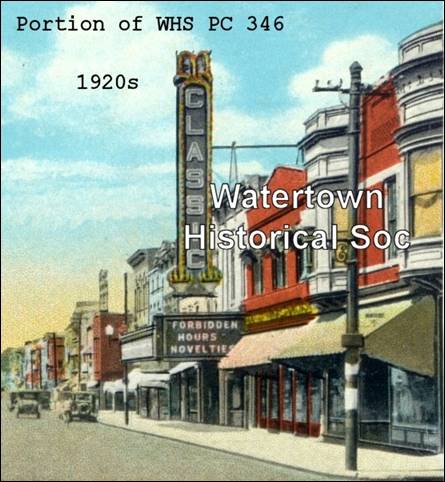 <![endif]>
This image dates to 1928 -- that was when "Forbidden Hours" was released, starring Rammon Novarro.
<![if !vml]>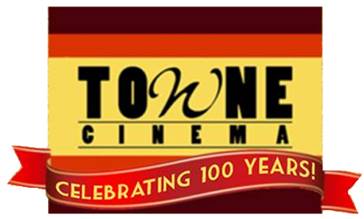 <![endif]>
1873
DISTANT VIEW OF FUTURE LOCATION
<![if !vml]>

<![endif]>  
1900s
During the early 1900s, the Concordia building housed two theaters - the Empire and the Colonial - which featured both film and vaudeville acts.   WDT, 09 10 2007
1902
01 31       THE KINODROME SHOW commenced a three-night engagement at the Concordia Opera House, January 30th.  A few words explaining what the Kinodrome show is.  The Kinodrome is the moving picture machine now in universal use in the leading vaudeville theatres in the country.  We mention this to demonstrate the high order of the pictures this machine must exhibit to retain its prestige and constant use in the theatres it is at this time being operated in.  The Kinodrome show is an exhibition of moving pictures sent on tour under the direction of the company operating these various machines in the manner stated.  It has been found necessary to gain public favor and interest in our moving picture exhibitions at various theatres, to obtain at all times scenes and incidents of having things up to date, and in so doing we have accumulated the largest and most varied stock of animated pictures in existence.  Up to the introduction of the Kinodrome show on tour the public outside of the cities had only a slight knowledge of what is being accomplished in motion photography, the rapid advancement, ingenuity and quality of highest photography being obtained in the mysterious art . . . The exhibition promised is of the most interesting kind, and should be seen to be appreciated.  Seats now on sale at Gamm's. Admission 10, 20, and 30c.  Saturday matinee.   WG
Cross Reference:  Info on Kinodrome
1907
03 23       A petition to exclude panoramic views from paying license in the city was introduced and referred to the Judiciary committee.  This is in the interest of the new five-cent theater recently started here.   WDT
1913       CLASSIC OPENED in 1913
The Classic Theatre was opened here in 1913 at 310 Main Street by Willis Norton.  It later became the Bonnet Shop while the Classic now utilizes its present premises [308 E Main] and also part of the building to the rear of the Bonnet Shop.
Over the years the Classic has kept pace with all the new advances in motion picture entertainment.  It introduced the first talkies in 1928, the first such production to be shown here being "The Trial of Mary Dugan" which based on a highly successful Broadway stage play.
In 1954 the Classic introduced CinemaScope, having greatly enlarged its screen and installed facilities to enable it to bring the best of modern day "big screen" entertainment to its audiences.
1918
04 03       TO SELL POPCORN
Willis H. Norton, manager of the Classic theatre, received today an up-to-date popcorn and peanut vending machine, which he recently purchased in Chicago.  The new outfit has all modern improvements and is operated by electricity.  Patrons will be given the best of goods and service.      The Watertown News
CROSS-PROMOTION BETWEEN MOVIE HOUSES
<![if !vml]>

<![endif]>  
Movie on Wednesday at the Majestic to end in time to take in second movie at the Classic.
1920s
<![if !vml]>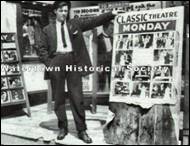 <![endif]>      1920s, 308 E Main
1924
<![if !vml]>

<![endif]> 
1927       1927 Letter to the Classic Theatre, from the Pathe Exchange
The Kellogg company used Hal Roach's "Our Gang" to promote its new cereal, Kellogg's Pep.
  <![if !vml]>

<![endif]>  WHS_006_817                 <![if !vml]>

<![endif]>  A mild laxative
The Kellogg Company is now distributing a new article called "PEP" . . . in which they are exploiting "OUR GANG" comedies . . . The Kellogg Company will send a representative to your theatre for the purpose of perfecting a tieup with a grocer in your neighborhood . . .  Letter suggests a course of action by which the Classic could secure "additional and earlier bookings on OUR GANG comedies."
<![if !vml]>

<![endif]>        Classic Theater, c.1927, Quality Street with Marian Davies was released in 1927
1928
GILDA GRAY AT THE CLASSIC
<![if !vml]>

<![endif]>  
                Gilda Gray (famous for The Shimmy) in the Nov 1927 silent film "The Devil Dancer."   Gilda Gray was born as Marianna Michalska in Kraków, Austria-Hungary in 1901 to Max and Wanda Michalski, who emigrated to the United States in 1909 and settled in Milwaukee.
-- --         FRANK BELLMAN
Frank W. Bellman, organist at the Classic theatre, Watertown, Wis., for over four years, is now organist at the Bryn Mawr theatre, Chicago. Mr. Bellman was succeeded by M. A. Knudson, who has played at a number of theatres in Milwaukee.
1932
08 29       SIAMESE TWINS AND WIVES TO APPEAR
<![if !vml]>

<![endif]>  
Simplicio and Lucia Godina, the only male Siamese twins in the world, arrived in the city today with their wives and are staying at the New Commercial hotel during their two day visit here.  The pair will appear tonight and Tuesday night at the Classic Theatre, as well as for a special matinee on Tuesday afternoon.
No sooner had the twins arrived here with their wives and become settled at the hotel when they went out for a drive in their automobile to see the city.  Being joined together since birth has proven only a slight handicap, for they have both received a liberal education and are widely traveled and cultured.  They enjoy driving a car and seeing the country.  They speak English with an accent.
At the matinee tomorrow they desire to meet all the twins who have received free tickets for the performance through the Daily Times office.
1933
-- --           OSCAR BAUMANN AIDS DENTIST
Mention of Oscar E. Baumann, manager of the Classic Theatre; comes to aid of Dr. R. J. Buss, Watertown dentist.
-- --           OSCAR BAUMANN AIDS DENTIST
<![if !vml]>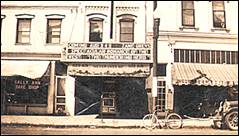 <![endif]>  
1937
<![if !vml]>

<![endif]>
Movie playing was "In Old Chicago"
1939
MEINHARDT RAABE, "LITTLE OSCAR" AND THE WEINERMOBILE
August        <![if !vml]>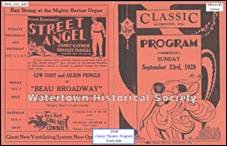 <![endif]>  Meinhardt Raabe, "Little Oscar" on bumper of Weinermobile, at the premier of the film The Wizard of Oz in Watertown.  He was here for an in-person appearance at the Classic Theater. 
The young boy in the pic is Dennis Draginis, who had a strong connection to the theater business in Watertown.  The local theater was purchased by the Draginis family in the 1920s.  For many years it was managed by Oscar Baumann.  Somewhere around 1960 Dennis Draginis took over management of the business for the family and continued in that role until 1972 when it was sold to Joseph Reynolds.
1941
01 13       KATHERINE HEPBURN STOPS IN WATERTOWN
<![if !vml]>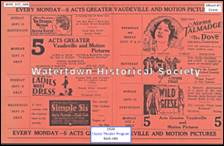 <![endif]> 
Miss Hepburn Pays City Brief Call
Famous stage and screen star stops here on auto trip.
Katherine Hepburn, celebrated stage and screen star, paid Watertown a brief visit yesterday.  She was accompanied by Louis Orlove of Milwaukee, the Metro-Goldwyn Mayer Picture representative for Wisconsin. 
Miss Hepburn was enroute to Madison and stopped here to call at the office of Oscar Baumann, manager of the Classic Theatre. 
However, she and Mr. Orlove missed seeing Mr. Baumann, since he was not at his office when they called shortly before noon.  T
he star talked to Mrs. Howard Kramp of the Sally Ann Bakery [306 East Main] which adjoins the Classic Theatre and left a note for Mr. Baumann.
Miss Hepburn wore a slack suit and a turban.
1944
<![if !vml]>

<![endif]>  
08 21       BACK-TO-SCHOOL MOVIE PARTY
<![if !vml]>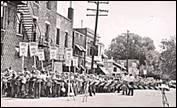 <![endif]>    [1]                    <![if !vml]>

<![endif]>       [2]  
Nearly 900 kids attended the Classic Theater for a Roy Rogers western, three cartoons and two comedies, sponsored by J. C. Penney store.  Pictured [1] lined up on west side of Penney store, corner of E. Main and S. Second streets, preparatory to leaving for the theater and [2] parading along 200 block of East Main, on way to the Classic.
c.1955
<![if !vml]>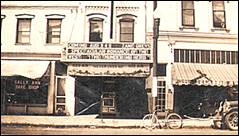 <![endif]>
c.1957, 308 E Main, 1950s-70s city assessor image, WHS_006_041b
c.1957, 308 E Main, 1950s-70s city assessor form, WHS_006_041a
"Mayor" Frank Nissen changed the letters on the sign, commuting
from Oconomowoc to do his job, sometimes with interesting typos.
1950s
1959
04 22       OSCAR BAUMANN RETIREMENT
The retirement of Oscar E. Baumann as manager of the Classic Theatre and his withdrawal from show business to which he has devoted nearly 40 years of his life, was announced today.  Mr. Baumann has been so long identified with movie entertainment in Watertown that he was like a fixture in the theatre lobby.  One looked for him there and one usually found him in or about the place.  That will be changed now.  No longer will he be there to greet patrons, pass along a little story or some comment or witticism.  During his many years at the Classic Theatre he became one of the best known men in Watertown with friends in every walk of life, from children on up.   WDT
OSCAR BAUMANN HOME
<![if !vml]>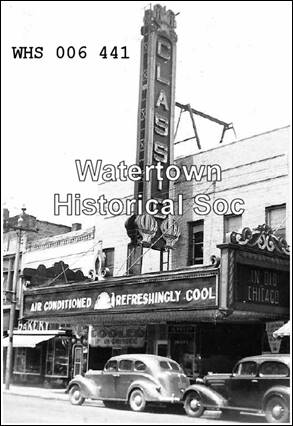 <![endif]>   (1952 photo of home)
1960s
1961
07 01       DOC SCHMEICHEL
Of the thousands upon thousands of persons who passed through the portals of the Classic Theatre and the Savoy Theatre here over the years that A. W. (Doc) Schmeichel served as doorman, handing their tickets to him, very few were aware of the part he played in Watertown music and entertainment circles for two generations.  The fact is that Doc has had a most unusual musical career, having played with bands and orchestras, including his own musical organization and a combo.  Doc's start in the entertainment field dates back to 1912, nearly a half century ago, when he began to play with the old Imperial Band of Watertown, then a leading musical organization here.   WDT
1967
04 04       CLASSIC THEATRE MARQUEE REMOVED
One of the structures along Main Street that will have to be set back to conform with the widening of the street as a state-city project this spring is the Classic theatre marquee, since, in its present form, it would overlap into the street when the street is widened and the sidewalk area is cut down.  H. M. Dakin, attorney for Watertown Amusement Enterprises, owners and operators of the theatre, informed the council by letter that the theatre will seek and hopes for adequate compensation from the city to help defray the expenses of removing the marquee and reconstructing it so it will not interfere with activities in the street in front of the theatre.
10 30       NEW MARQUEE
<![if !vml]>

<![endif]>  
1990
01 28       CHANGE OF OWNERSHIP AND REMODELING
Local movie buffs may have a difficult time recognizing Watertown's Towne Theater when it opens its doors Feb. 16 following a change of ownership and a thorough remodeling effort.  "It should look completely and altogether different when we open," said new owner Gary Goebel of Sturgeon Bay.  "It needs a lot of work. I'm sure I'll put more money into it than I paid for it before we're all finished."  Goebel purchased the theater Jan. 8 from Milwaukee's Joe Reynolds. He also owns theaters in Sturgeon Bay and Bailey's Harbor, both in Door County, as well as a theater complex in Crestview, Fla.  WDT
2010
Dec          <![if !vml]>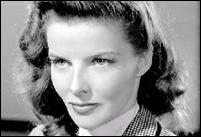 <![endif]>Towne Cinema has been closed since mid-December of last year when Steve Lind, the former lessee of the facilities, decided to terminate his lease.  Lind and his family had leased the business from John and Barb Bendall, the owners of Towne Cinema, since November of 2004.
2011
01 17&19 CINEMA REQUEST FOR LIQUOR LICENSE
David Glazer, the owner of Rosebud Entertainment LLC, applied for a Class B malt only license and a Class C wine license for Towne Cinema.  The other theaters that Glazer operates - the Times Cinema in Milwaukee and the Rosebud Cinema in Wauwatosa - also have alcohol licenses.  Council OKed beer, wine licenses on 01 18.
Glazer is in the process of cleaning and painting the building and hopes to reopen the three-screen theater later this month.
05 05       TOWNE CINEMA RE-OPENING
Grand reopening celebrated with a food drive that will benefit the community.  The first movie that will be shown at the theater will be "Thor" at 12:01 a.m.  Towne Cinema will also be showing "Thor," "Fast Five" and the 1939 classic "The Wizard of Oz" throughout the next week.
Towne Cinema has been closed since mid-December of last year when Steve Lind, the former lessee of the facilities, decided to terminate his lease. Lind and his family had leased the business since November of 2004.  The new operator of the theater is David Glazer.  The newly-refurbished cinema will play a mix of first-run films as well as special family matinees, classics, independent movies and midnight cult favorites.
2013       TOWNE CINEMA KICKSTARTER CAMPAIGN
Need to replace film projectors with digital machines in time for Hollywood's complete conversion to digital projection later this year or downtown theater has to close.  Goal is the raising of $70,000 toward the purchase of digital projectors.  In October the theater will turn 100 years old.    Video file  
05 07       TOWNE CINEMA GOES OVER $70,000 IN DONATIONS
Cinema 101 percent funded at $71,211 of its $70,000 Kickstarter goal.  Backers numbered 561 over 60 days.  The success means the theater will be able to move ahead into the digital age of cinema with the purchase at least two digital projectors as Hollywood ceases issuing its movies on film, opting to go with digital presentations.
10 20       A COMMUNITY SAVES THE TOWNE
The Towne Cinema shouldn't be in business, especially when the price of a ticket is only $3.  Remarkably, this theater . . . is making a go of it in this city's downtown.  A successful fundraising effort means the show will go on for years to come at the Towne.   Wisconsin State Journal article   YouTube video clip 
2015
08 26       100th ANNIVERSARY OF MEINHARDT RABBE'S BIRTH
<![if !vml]>

<![endif]>   Theme of the celebration is, "There's No Place Like Home."
The Towne Cinema will be hosting a four day celebration of the life of Meinhardt Raabe, who was the Munchkin Coroner in "The Wizard of Oz" with free showings of the iconic movie to coincide with the 100th anniversary of Rabbe's birth.  Raabe was born in Watertown, raised in Farmington, went to high school in Johnson Creek, attended the former Northwestern College in Watertown and went on to graduate from the University of Wisconsin- Madison.
There will be four free showings of the "Wizard of Oz" on Wednesday, Sept. 2 and Thursday, Sept. 3 at 7 p.m., Friday, Sept. 4 at noon and 7 p.m. and Saturday, Sept. 5 at noon. On Sept. 2 before the 6:30 p.m. showing there will be a birthday cake celebration. Sept. 2 would have been Raabe's 100th birthday.  He was born in 1915.
A birthday cake with 100 candles along with some group singing will take place.  One hundred cupcakes from Sweet Talkin' Treats will be given away in honor of Raabe. Oz costumes are encouraged.
The Oscar Mayer Weinermobile will be in attendance at the event on Wednesday.  Raabe toured the country for 30 years in the Oscar Mayer Wienermobile, promoting hot dogs as Little Oscar, the World's Smallest Chef.  He retired in 1971.
Cross References: 
There's no place like Main Street to remember Meinhardt Raabe.   Madison.com article
Munchkin coroner recalled on 100th.   Daily Union article
Celebration over the rainbow ...   WDTimes article
08 26       CELEBRATION OF LIFE OF WILLIAM WESLEY YOUNG
Towne Cinema be hosting an evening that celebrates the life of William Wesley Young and his silent film, "Alice In Wonderland" on Wednesday, Dec. 30, at 7 p.m.  The event will be held in honor of the 100th anniversary of the film's release in 1915.  This year also marks the 150th anniversary of the publication of Lewis Carroll's classic book, "Alice's Adventures in Wonderland," the book on which the movie was based.  W.W. Young was a native of Monroe and attended the University of Wisconsin-Madison where he founded the student newspaper The Daily Cardinal in 1892. He went on to be the UW-Madison's first journalism major.   WDTimes article  
2017
12 11       SILENT MOVIE FEATURED
For 78 minutes Buster Keaton ran, jumped, hung, dove and tumbled across Towne Cinema's screen in the 1928 classic "The Cameraman."  David Drazin, seated at an electric piano at the front left of the 180-seat theater, stared at the screen and played electric piano music to the Buster Keaton film.   Wisconsin State Journal article  
06 22       TOWNE CINEMA TO REOPEN AFTER LOCKDOWN
After extensive planning and cleaning as a result of the COVID-19 pandemic lockdown, the Towne Cinema is set to reopen July 3.  The theater has been conducting a GoFundMe campaign to stay afloat during the coronavirus shutdown and to take care of necessary repairs to the historic structure that sits in the heart of downtown Watertown.  Changes that patrons will see upon returning to the cinema will be that the main theater, known as the Remax and CMN theater, was repainted.  The women's bathroom was repainted and the concession stand is being upgraded to include some room for possible growth in menu options.
There will be suggestions that patrons wear masks in the theater, although at this point, it is not required.  The  soda station will no longer be facing the customer and will instead be filled by our employees.  Once a customer walks through the lobby to the theater they are going into, they will see that staff has sectioned off every other row in front of each screen.
One other thing that customers will notice is that there will be a lot of local ads packed into the 30 minutes before every movie.  Towne Cinema is looking to help local businesses that were, and still are, being affected, by offering them free advertising on the big screens for the first three months.
2021
12 08       TOWNE CINEMA RECEIVING $43,859
Several area theaters — including Watertown's Towne Cinema, Jefferson's Highway 18 Outdoor Theater and Janesville's Rosebud Partners LLC — will receive state assistance as they try to return to more normal operations in light of the COVID-19 pandemic and a changing movie industry.  Watertown's Towne Cinema is receiving $43,859 as part of $10 million in grants that have been awarded to movie theaters, summer camps and minor league sports teams throughout the state
<![if !vml]>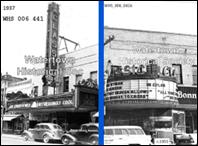 <![endif]>   <![if !vml]>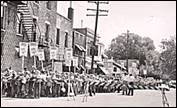 <![endif]>   < PORTFOLIO OF PICS
Cross References:
Fourth of July (1 of 2), background, adjacent of Woolworth's
Fourth of July (2 of 2), background, adjacent of Woolworth's
Review article on Watertown movie theaters

History of Watertown, Wisconsin