website  watertownhistory.org
    ebook  History of Watertown, Wisconsin
Christ United Methodist Church
112 Hall Street
<![if !vml]>

<![endif]>
c.1965
-- --           ARTIST'S RENDERING
        PROPOSED NEW CHURCH, FELLOWSHIP HALL AND EDUCATION WING
<![if !vml]>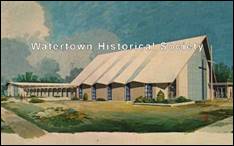 <![endif]>  
Designed by Law, Lew, Potter & Nystrom, Architects.
1967
The Watertown United Methodist Church is launching a major fund crusade on Jan. 26 to Feb. 7 for a new worship and educational center to be constructed on Hall Street.  This is the second major fund drive under the leadership of Rev. Lowell Reykdal, pastor of the Methodist Church for the past four years.  Methodism first started in Watertown in 1837 with the founding of the Methodist Episcopal Church.  The present Watertown United Methodist Church is the combination of the former Wesley Methodist Church and the First Methodist Church which were merged nine years ago.  At present, one building is being used for worship services and the other church is utilized as an educational center.
1969
05 14       NEW FACILITIES
The United Methodist Parish of Watertown will begin using its new facilities at 112 Hall Street Sunday.  The building contains approximately 15,360 square feet of space which is fully carpeted with the exception of kitchen space, rest rooms and storage rooms.  The building contains 10 classrooms, office space, pastor's study, fellowship hall, kitchen, furnace rooms, rest rooms and storage areas.  The fellowship hall will house the worship service until the final section of the complete building is constructed.  The total cost of the newly constructed building and site development is approximately $225,000.
<![if !vml]>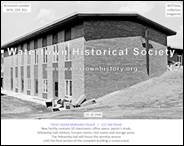 <![endif]>     <![if !vml]>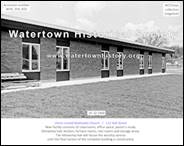 <![endif]>     <![if !vml]>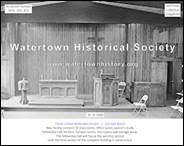 <![endif]>
<![if !vml]>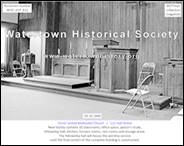 <![endif]>          <![if !vml]>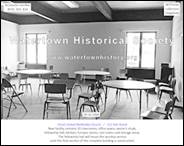 <![endif]>
1969
08 18       LAY WITNESS MISSION PLANNED
<![if !vml]>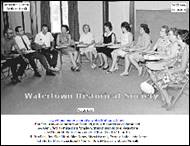 <![endif]>          <![if !vml]>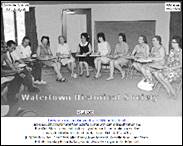 <![endif]>
Bob Beck, a lay coordinator from Schofield, met with committee chairman and Rev. Glen Siferd, to make plans for a lay witness mission to take place at the new United Methodist Church on Hall Street Oct. 10, 11 and 12.
Rev. Glen Siferd, Allen Denny, Myra MacInnis, Cornelia Nolte, Linda Foster, Ruth Borbe, Mary Richards, Sally Koehler, Dorothy Strayer and Judy Worrell.
1970
05 14       BUILDING FUND CRUSADE
<![if !vml]>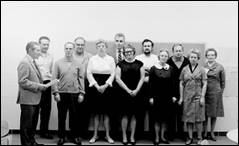 <![endif]> 
Plans for the Christ United Methodist Church building fund crusade continue to progress.
Captains of the drive:  Mel Stenzl, Francis Pirkel, Tom Borbe, Gerald Yenser, George Sokolenko, Sally Koehler, Allen Denny, Peter Colletti, Esther Mitchell, Shirley Hepp, Cornelia Nolte, Marian Ziegelmann, Dorothy Strayer and Ruth Malison.
05 18       REMOVED FOR NEW GOODYEAR STORE
A Goodyear tire and service store is to be constructed in Watertown in the near future, according to Harry Wendel of the Goodyear district office in Milwaukee.
The store will be located at the corner of North Fifth and Main streets.  The site includes three properties.  They are the former Christ United Methodist Church, former Kehr Brothers Heating, and the former Hilary Reichardt home on 109 North Fifth Street.
Construction is to begin soon and be completed within 90 to 120 days after work begins.
The land will include parking for approximately 25 vehicles and will offer a complete mechanical shop including brake work, wheel alignment, tire work, sale of tires and many other areas. A  truck bay and farm tire bay are included in the plan.
An appliance and television store will be included in the business.  The facility will employ about six persons
1972
09 24       CHURCH CONSECRATION
<![if !vml]>

<![endif]>  Image Portfolio 
09 24       Rev. LEISMAN - MINISTER OF VISITATION
<![if !vml]>

<![endif]>  
The Rev. and Mrs. Milton B. Leisman moved to Watertown in September 1969 when he retired from the active ministry of the United Methodist Church.  He was appointed as the Minister of Visitation at the Watertown United Methodist Church.
The Leismans began their ministerial responsibilities in 1926 at Oconomowoc serving also at Concord and Sullivan.  Since then their assignments have taken them the length and breadth of the eastern section of the state.  They were at Minocqua and Mercer for 13 years.  It was there that they were identified with the Million Penny Parade to build a hospital in the Woodruff area under the inspiring leadership of Dr. Kate Pelham Newcomb.  Her life story was written in Adelle Camindini's book, Dr. Kate — Angel on Snowshoes.  Rev. Leisman also served as full time chaplain of Methodist Manor, a home for the aging in West Allis, for two years.
2006
12 29       CAROL ERICKSON, ORGANIST
This year marked the 55th year Carol Erickson, of Watertown, played the organ at a church on Christmas Eve.  She has served as organist at Christ United Methodist Church in Watertown for almost 40 years beginning in 1967.  Her years of experience is evident as she plays the organ.  Her fingers move swiftly over the keys while her feet search for the perfect pedal.  Many of the songs she has memorized, while with other songs her eyes quickly read the notes.  "The years have gone fast," Erickson, 67, said. "I'm very dedicated to the church and enjoy playing."
2010
06 25       MEISSNER RETIRES FROM CHRIST UNITED
Retiring at the end of the month after 33 years of serving the ministry.
Rev. Lee A. Meissner has spent the past nine years serving Christ United Methodist Church in Watertown — the longest a pastor has ever served the local church.
In the Christ United Methodist ministry Meissner said many times pastors are moved around after only a few years as a way to fill positions with experienced pastors from those who retire. Before coming to Watertown, Meissner has been a pastor at several churches often working for two or more at one time as a shared pastor. He served churches in Avoca, Gotham, Wyoming Valley for four years, Westfield and Coloma for five years, Cuba City and Georgetown for nine years and Janesville and Mount Zion for seven years. In all his churches he has enjoyed his work.
Prior to becoming a pastor, Meissner attended the University of Wisconsin-Platteville where he received his bachelor of science degree in agriculture.  After college he took a job with John Deere in Dubuque, Iowa, while living in Platteville for nine years before he decided to attend the seminary.  Over the years he's received a master of divinity and a master of arts and religion.
He's been involved in all of the communities he's lived in. In Watertown he served on the zoning board of appeals and on the board of directors of the Counseling Center of Watertown.  He's also enjoyed the connection between the churches in the city.  For example Christ United Church's Bible school is held in conjunction with three other churches of different denominations rotating where it is held each year.
Meissner will be serving the church until Wednesday when the new pastor Ron Krai of Sussex will be taking over.  Meissner and his wife, Helen, will be moving into their new home purchased a few years ago located in Janesville.
2018
<![if !vml]>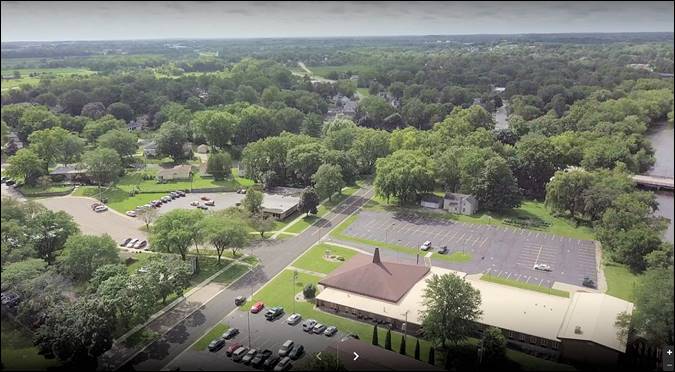 <![endif]>
<![if !vml]>

<![endif]>
History of Watertown, Wisconsin