website  watertownhistory.org
    ebook  History of Watertown, Wisconsin
Calvary Baptist Church
1960
   -           Raymond L. Tessmann was a church builder with Wisconsin Independent Baptist Missionary Grant Rice.  Ray was instrumental in starting and pastoring in a number of churches including, in 1960, Calvary Baptist Church in Watertown.  Began in the basement of his home at 1500 Center St., Watertown, where he was a charter member.  WDT, 08 03 2009   Raymond Tessmann obit
07 21       A special service held here last night marked the signing of the charter of Watertown's newest church - Watertown Calvary Baptist Church. Announcement of the new church was made some months ago. The Rev. George Cable of West Bend was the guest speaker last night. He delivered a challenging message on the subject of "Pattern of Christianity." The congregation is meeting temporarily at 1500 Center Street, but construction of a permanent meeting place at Spaulding and Prospect Streets is underway.   WDT
1963
03 01       The Calvary Baptist Church, Prospect and Spaulding Streets, plans to construct a new church building this year.  The church has voted to accept plans presented by Alfred Siewert, architect, Milwaukee.  The plans call for the moving of the present unit to be used for educational purposes and a new church edifice to be erected on the corner of Prospect and Spaulding Streets.  This unit will consist of an auditorium, lounge, general office and pastor's study.  The Calvary Baptist Church was organized three years ago this coming Easter and has been meeting in the present building for two years.  The congregation has grown so that the present building is no longer adequate.  The members of the building committee are Marvin Goetsch, Del Pederson, Bud Wollin, Louis Foerster, Edgar Goetsch.   WDT
08 23       The Calvary Baptist Church, at Spaulding and Prospects Streets, of which the Rev. Charles R. Sanders is pastor and which announced plans for a new building some months ago, on Sunday broke ground for the new edifice. The building will include an auditorium, pastor's study, general office, nursery and mother's room. Also, there will be some classroom space provided.   WDT
1964
05 01       DEDICATION OF CHURCH BUILDING
The Calvary Baptist Church, Prospect and Spaulding Streets in Watertown, will dedicate its new building Sunday.  The regular services of the church will be held as usual with Sunday school at 9:30 o'clock and morning worship services at 10:30 o'clock and the evening evangelistic service at 7:30 o'clock.  The facilities in the new church building include an auditorium which seats 300, a narthex and lounge area, fully equipped nursery, a mother's room, study and church office, baptistry, Sunday school rooms, a large fellowship hall and a future kitchen.   WDT
1968
09 25       FINANCES FOR A BIBLE SCHOOL ADDITION
The Calvary Baptist Church, located on the corner of Prospect and Spaulding Streets, in Watertown, is launching a food program to provide the finances for building a Bible school addition and to more than double the seating capacity of the present auditorium.  Calvary Baptist Church had its beginning in a Bible class.  The first Sunday services were held April 17, 1960, with 32 charter members.  In May of the same year the membership purchased the lot located on Prospect and Spaulding Streets, on which a building was erected that would seat 100 people.  Because of growth in the church, another building program was launched in February, 1963, at which time the present building was erected.  In January of this year, the church members realized the need of launching another building program to nearly triple present facilities.    WDT
10 27       BUILDING A BIBLE SCHOOL ADDITION
The Calvary Baptist Church, located on the corner of Prospect and Spaulding Streets, is planning soon to begin construction of a building expansion that will more than double their facilities.  This expansion will include more than double the auditorium space and will include an educational wing with some twenty Bible school rooms, plus nursery, restroom and kitchen facilities.  The money for the project has been raised through the efforts of a bond drive with Providence Church Plan, Inc. of Atlanta, Georgia.  Some bonds are still available in denominations of $250, $500 and $1,000 with maturity dates from six to 12 years, drawing 6 1/2% compound interest, plus additional interest benefits available at this time.    WDT
1969
03 07       CONSTRUCTION OF BIBLE SCHOOL ADDITION
09 12       DEDICATION OF BIBLE SCHOOL ADDITION
A dedication service and open house will be held at the Calvary Baptist Church, Prospect and Spaulding Streets, to dedicate the new building addition at 2:30 o'clock Sunday afternoon.  Rev. Eric Folsom, pastor and evangelist from St. Petersburg, Fla., will be the dedication speaker.  He will also sing.  Rev. Edward Burckart will play a special number on his violin.
The Calvary Baptist Church had its beginning in a Bible Class held at the home of Mr. and Mrs. Ben Musser, 118 North Seventh Street, with Rev. Grant Rice, teacher.  As interest increased a larger place was made available at the home of Mr. and Mrs. Ray Tessmann, 1500 Center Street.  The first Sunday services were held April 17, 1960, and the church was organized on April 22, 1960, with 32 charter members.  In May of 1960, the lot located where the present building stands on Prospect and Spaulding Street, was purchased and building began.
09 14       CALVARY BAPTIST DEDICATION SERVICE AND OPEN HOUSE
<![if !vml]>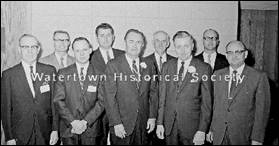 <![endif]> 
Construction of additional educational facilities and auditorium space was completed recently.
Gary Joslin, Jack Meyer, Marvin Goetsch, Bud Wollin, Ben Dams, Ronald Fehrmann, Rev. Erie Folsom, (St. Petersburg, Fla., dedication speaker), Rev. Charles Sanders (pastor), and Del Pederson.
2000
07 17       REV. DR. LINCOLN RETIREMENT
The Rev. Dr. William Lincoln, pastor of Calvary Baptist Church in Watertown, has announced his retirement after having served 49 years in the ministry.  The occasion will be observed with several activities this weekend.  On Saturday night, Calvary's staff and school faculty will gather to recognize his service at Calvary Baptist Church and School.  A special time of testimony is planned for the Sunday morning Bible School Hour.  The pastor will preach his final message during the 10 a.m. service.  A special recognition service will be held Sunday evening followed by a time of fellowship for the entire church family.  Lincoln and his wife, Barbara, have served four congregations during their 49 years.  They ministered to churches in Pennsylvania, Ohio and Indiana before coming to Watertown, where they are completing their 27th year.  The Lincolns have four daughters, Becky, Beth, Christine and Rachel.   WDT
2005
02 10       A MORE SPACIOUS CHURCH
Twenty five years ago the members of Calvary Baptist Church had a vision of a new church building.  A building that would comfortably hold the growing congregation.  The new church building, costing approximately $4.6 million to construct, is located at 792 Milford St. and more than meets the needs of the congregation.  Entering the new church building gives a hint of how large it actually is.  The lobby alone is 2,800 square feet and holds 560 people.  Although the lobby is large, the auditorium makes it look quite small.  The auditorium is U-shaped, with rows of pews surrounding a platform in the front center.  The entire building is 34,420 square feet and the capacity of just the auditorium is 1,060 people.  The original church seated a little over 400 people, which brought a schedule of two morning and two night services every Sunday to accommodate the almost 700 members.   WDT article
2008
04 02       POLICE CHAPLAINCY PROGRAM
The Watertown Police Department has formed a police chaplaincy program and the Rev. Mark Moore of St. Paul's Episcopal Church and Pastor Doug Stein of Calvary Baptist Church will be serving the community in this new ministry.  The police chaplains will be available on a 24-hour basis to offer support to residents in need, which includes comforting grieving families during death notifications and assisting police during other traumatic incidents.
2015
05 27       BLUE AND WHITE SUNDAY
On Sunday, May 17, Calvary Baptist Church held its annual Blue and White Sunday.  This Sunday is set aside each year to honor those men and women who serve in law enforcement.  The Rev. Dr. Bob Loggans welcomed 50 law enforcement guests as well as the other 500 people in attendance.  The guest speaker for the 9 a.m. service was Chaplain Darryl Sturgill of the Watertown Police Department.  Special recognition was given to Crime Prevention/ D.A.R.E Officer Stacy Schroeder of the Watertown Police Department for her 13 years of dedicated service.  Schroeder was given a plaque and a Bible.  Police Chief Timothy Roets wholeheartedly recommended Schroeder and praised her for allowing "members of the public to see the individual behind the uniform and badge."
2018
04 26       BLUE AND WHITE SUNDAY
The Rev. Dr. Robert Loggans welcomed 24 law enforcement guests and their families, as well as elected officials and their families.  Milwaukee Sheriff Richard Schmidt spoke in the 9 a.m. hour. In the 10 a.m. hour, Watertown Mayor John David read the mayoral proclamation declaring April 22, 2018, as Blue and White Sunday in Watertown. Each honored guest introduced themselves and their family, and the congregation gave them a standing ovation.
A special offering was taken on behalf of the Watertown Police Department. The offering totaled $2,611 and will be used to help purchase K-9 squad car cages to help those like Officer Tony Namio and his K-9 partner, Oczi.  Special recognition was given to Sgt. Ben Olsen during the service. Loggans read Olsen's nomination letter, written by Chief Tim Roets, which highlighted the areas Olsen has served in the Watertown Police Department.  Olsen has served at the Watertown Police Department for over 11 years. He has served on each patrol shift and as detective. Olsen was promoted to sergeant in 2014 and serves as the supervisor for the city's late shift. He also serves as a department instructor for defense and arrest tactics.
Cross References:
Maranatha Baptist Bible College offers a full high school curriculum on the campus and has enjoyed rising enrollments at both the high school and college levels.  In addition, the college has a close affiliation with Calvary Baptist Church which operates a Christian elementary school.  As a result, children can be educated in the Baptist philosophy from preschool all the way through a master's degree.
<![if !vml]>

<![endif]>
History of Watertown, Wisconsin