website  watertownhistory.org
 ebook  History of Watertown, Wisconsin
Dr. Vernon Bauman
1920 - 2008
Veterinarian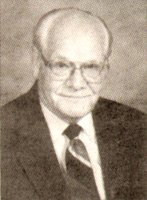 1982
    Watertown Daily Times, 08 01 1982
Dr. William Foster, who has had a private veterinary practice in Watertown for 37 years, announced his retirement Friday.  Foster said he began to notice lately that the Foster and Bauman Veterinary Clinic Service Corporation was starting to have quite a few second and third generation clients.  He decided it was time to retire.  Foster set up an office at the corner of Ninth and Dodge Streets in Watertown in 1945.  Two years later he and Dr. Vernon Bauman teamed up, and they moved the office to Fifth and Market.
2008
Dr. V.R. Bauman, 88, of Watertown, passed away Wednesday Nov. 19, 2008, at home.
Doc was born on April 26, 1920, in Gothenburg, Neb., the son of Roy and Anna (Block) Bauman.  He attended country grade school and graduated in 1936 from Gothenburg High School.  He graduated in veterinary medicine from CSU, Fort Collins, Colo., in 1942.  He started his career in artificial insemination in Monroe and continued artificial insemination in Beaver Dam, where he met and married Marion Deniger on Sept. 18, 1944.  She preceded him in death and he later married Margaret Frank Feb. 14, 1998.
Doc spent two years in the U.S. Navy from 1944 to 1946.  He worked one year in practice with Dr. Tinsman in Middletown, N.Y., he returned to Wisconsin in 1947 and joined Dr. William Foster in practice in Watertown until his retirement in 1981.
His organizations included M&I Bank director for 17 years; past president of Wisconsin State Veterinary Association, Southeast Conference Association, Dodge County Veterinary Association and Watertown Agri-Business Club.  He was a member of St. Mark's Evangelical Lutheran Church in Watertown and a member of the Jolly Boys Investment Club.  He loved to sing, which he did in high school and college and was in the Acapella Choir and Barbershoppers.  Doc was active in Watertown Curtain Club, Toastmasters and played Santa Claus for many years.  After his retirement he was involved in the veal business; took up stained glass as a hobby; collected soil samples for Rock River Labs and was a greeter at Wal-Mart.
Survivors include his wife, Margaret (Frank) Bauman of Watertown; four children, Thomas (Cheryl) Bauman of Woodbury, Minn., Lindy (Larry) Parsons of Denver, Colo., Janet (James) Claxon of Marion, Ind., and James (Laura) Bauman of Hong Kong, China.
He is also survived by Margaret's children, Phyllis (Dennis) Duddeck, the Rev. Joel (Judy) Frank, Marie (Rod) Maas and Mark (Maribeth) Frank.  There are eight grandchildren, two stepgrandchildren and six great-grandchildren surviving in Doc's family, and 26 grandchildren, 21 great-grandchildren on Margaret's side of the family; two brothers, Donald (Doris) Bauman of Gothenburg and Gerald (Mary Lou) Bauman of Cozad, Neb.; a sister-in-law, Bonnie Bauman of Gothenburg; also a number of nieces, nephews, other relatives and friends.  He is preceded in death by his parents and brother Kenneth.
In lieu of flowers the family would appreciate memorials to a local charity of one's choice.
The Bauman children would like to express a very special heartfelt thank you to Phyllis Duddeck who has always gone above and beyond to be there for our dad.
Visitation will be from noon to 2 p.m. Saturday at St. Mark's Evangelical Lutheran Church.
The funeral service will be at 2 p.m. Saturday at St. Mark's Evangelical Lutheran Church with the Rev. Michael Jensen officiating.  Burial will be in St. Henry's Cemetery, Watertown.
Pederson Funeral Homes Watertown is caring for the family.