website  watertownhistory.org
    ebook  History of Watertown, Wisconsin
Archie Brothers Monuments
1865
Archie Monuments was originally founded in 1865. 
1898      WATERTOWN STONE COMPANY plant acquired
10 12       Last week the Wisconsin National Bank disposed of the old Watertown Stone Company plant to J. J. Archie & Sons, of Waterloo, who will put it in operation as a branch of their business.  The plant is favorably located on the St. Paul Railway in the First ward and is well equipped with machinery for monumental and building stone work.  The resumption of operations at the plant will be an added industry to the city and give employment to a number of skilled artisans.  J. J. Archie & Sons are one of the best known firms in this line of business in this portion of the state and has gained a splendid reputation for superior workmanship.  They have secured the contract from R.E. Lewis for the large soldiers' monument which he has donated to the city.   WR
11 16       OCCUPY OLD SLEEPER PLANT
     CONSTRUCTION OF SOLDIER'S MONUMENT
The work of excavating for the foundation of the soldier's monument which Robert E. Lewis has presented to the city was begun in the city park Monday.  The monument will stand exactly in the center of the park and the base will be twelve by thirteen feet in dimension.  The excavation is to be six feet deep, and as soon as the earth is removed the foundation, built of lime-stone and granite, will be laid.  The monument contractors, J. Archie & Sons, expect to remove here from Waterloo next week and will occupy the old Sleeper plant.   WR
1899
CONSTRUCTION OF SOLDIER'S MONUMENT
Mr. and Mrs. R. E. Lewis, of Watertown, Wis., donated a soldiers' monument to that city, and it has just been completed.  It was built by J. J. Anche & Sons [Archie and Sons] of Watertown, is of Barre granite, 50 feet in height, and cost $6,000.  Stone – An Illustrated Magazine, June 1899 to November, 1899.
1900
02 27       LAKE MILLS PUBLIC LIBRARY
The public library donated to the village of Lake Mills by Lorenzo D. Fargo will be built the coming season at a cost of $6,000.  C. J. Archie & Sons, of this city, has a contract for furnishing the cut stone.
1909
1909, Purchased Model R Mitchell touring car for business
1913
1001 SECOND, granite & marble works, founded in 1865.
1920
PURCHASED NEW METHOD LAUNDRY BUILDING
Purchased New Method Laundry at 218 S. First St. for monument business
1953
218 S. FIRST ST.
<![if !vml]>

<![endif]>  
1954
218 S. FIRST ST.
<![if !vml]>

<![endif]> 
2009
The new building for Archie Monuments on Turf Drive topped the May list of new construction in Watertown.  Wayne Sormrud, owner of Archie Monuments, is moving his business from N8478 High Road to 100 Turf Drive because the High Road parcel is going to be used for the Highway 26 bypass.  The new 9,000-square-foot office and production facility is being constructed near the corner of Turf Drive and Highway 26.  The building will have a lower level showroom that will feature cast stone garden and religious statuary fountains and lawn ornaments.
2010
<![if !vml]>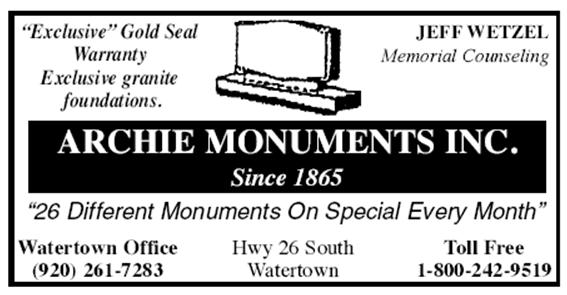 <![endif]>
The business constructed a new building on Highway 26 this year after the Highway 26 bypass required the business' original property.   While it is headquartered in Watertown, there are now 10 locations throughout the state and in Illinois.
2015
07 30       ARCHIE MONUMENT AND STONE  /  150th ANNIVERSARY
The company was founded in 1865, as Archie Brothers, Inc., by five stonecutter siblings from Scotland, who relocated to Waterloo.  These talented and adventuresome Scots began crafting cemetery monuments of the highest quality and their company grew to become Wisconsin's largest memorialist.  Archie has since served the monument and memorial needs of many families for four generations.
Archie enjoyed an established, physical presence in Watertown for many years on South First Street.  That historic building remains, but Archie relocated to High Road, just south of town, in 1978 and is now located at 100 Granite Lane along the state Highway 26 bypass.
Today, Archie Monuments has 11 different locations throughout Wisconsin and northern Illinois. In addition to Watertown, its outlets exist in Juneau, Fond du Lac, Waukesha, Ripon, Portage, LaValle, Neenah, Beloit, Waterford and Loves Park, Ill.    WDTimes story 
150 YEARS CELEBRATION
<![if !vml]>

<![endif]>  

History of Watertown, Wisconsin